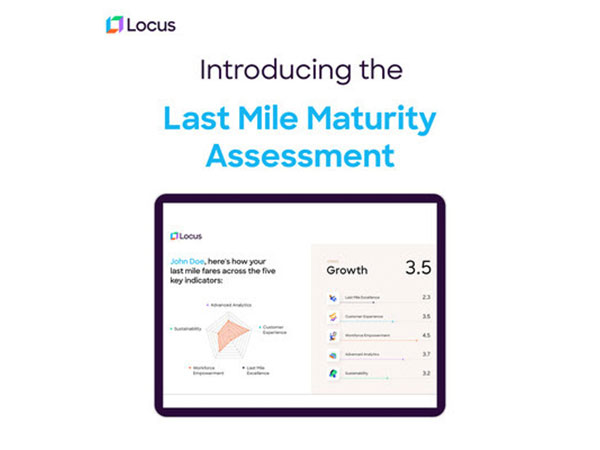 Locus launches 'Last-Mile Maturity Assessment' for enterprises to level-up their strategies
Feb 07, 2023
San Francisco [US], February 7 (ANI/PRNewswire):
, a leading-edge technology company solving for excellence in last-mile logistics, announced the launch of '
' - an industry-first benchmarking tool designed to help enterprises evaluate strengths, uncover hidden inefficiencies, and identify new growth opportunities in their last mile.
To help businesses evaluate the maturity of their last-mile operations, the free interactive online assessment conducts an in-depth analysis through well-researched questions spanning five fundamental performance indicators:
- Last-Mile Excellence: How robust last-mile capabilities are in the face of exceptions, unpredictable volumes, and profitability
- Customer Experience: The quality and consistency of the customer experience an organization's last-mile offers
- Workforce Empowerment: Employees' abilities to handle last-mile challenges
- Advanced Analytics: The opportunity to leverage last-mile data and make more informed decisions on the supply chain
- Sustainability: How environmentally sustainable a company's last-mile function is today
The assessment then scales enterprises on a 5-point rating system and categorizes them as businesses in the Emerging, Growth, or Optimized stage. Assessment takers walk away with a 360-degree comprehensive report that delivers personalized recommendations and actionable insights on how to unlock new revenue, and make delivery experiences a differentiator for enterprises.
"Last-mile is the primary touchpoint of the modern customer experience, and while businesses are starting to prioritize this function more than ever, not all know where they stand in their development journey," said Nishith Rastogi, Founder and CEO, Locus. "The Locus Last-Mile Maturity Assessment arms enterprises with personalized recommendations to help enterprises supercharge their last-mile growth. It's the competitive edge every company should be thinking about today."
To learn more and take the assessment, visit
.


Locus' order-to-delivery dispatch management software helps enterprises transform their Last-Mile logistics from cost centers to revenue generators through advanced optimization algorithms and intuitive workflow automation. Backed by GIC Singapore, Tiger Global, Qualcomm Ventures, and Falcon Edge, it has helped many global customers across industries - Unilever, Nestle, Bukalapak, The Tata Group, BlueDart, etc. - execute 850 million deliveries across 30+ countries. Its technology has also helped save $275 million in transit costs and offset 70 million kilograms in CO2 emissions while maintaining a 99.5% SLA adherence ratio.
This story is provided by PRNewswire. ANI will not be responsible in any way for the content of this article. (ANI/PRNewswire)